My Entries Visual User Interface
One of the most difficult tasks prior to Rivision 1.6 of PhotovaultOnline.com was the way to assign a photo to a categorie. It was almost a question of trial and error.
Revision 1.6 of PhotovaultOnline.com implements a new Visual User Interface where you enter a photo based on small thumbnail photos from your photo vault.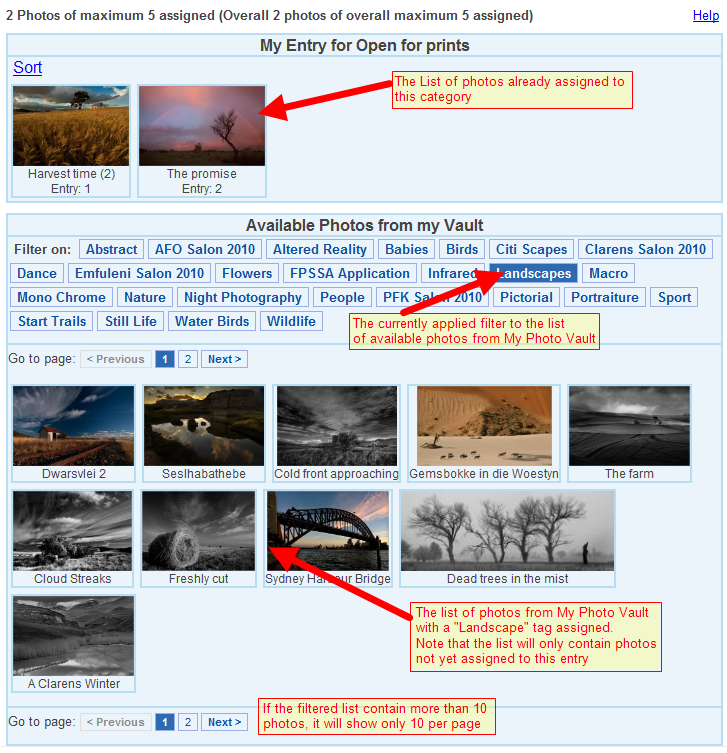 Usage Explanation
The screen consists of two tables.

The top table contains a list of all the photos I have assigned to this category.
The bottom list contains a list of the photos available from My Photo Vault that is not yet assigned in this event.

To add a photo to the entry, just click on its thumbnail in the bottom list.
To remove a photo (to replace it) from the list of assigned photos, just click on its thumbnail in the top list.
If the list of available photos is too large, use the tag filtering system to shorten the list.
Note that each assigned photo has an entry (sort) number. It is possible to change this entry order using the Sort> option (for PSSA Honours entries, see the Honours specific help about sorting the Honours panel).
Once you are happy that the top list contains all the photos (in the correct order) you want to enter in this category, click on the [Back to My Entry Overview] link at the top of the page.
Maximum Number of Photos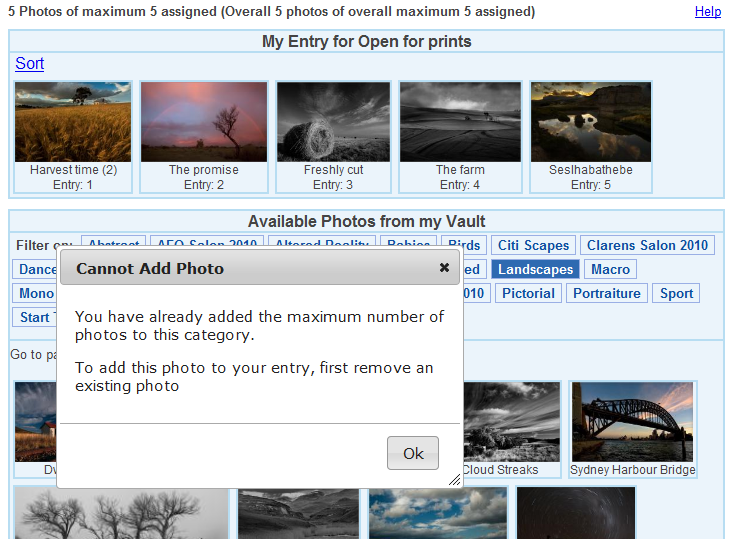 If you try to add more than the allowable number of photos to your entry, a dialog window will appear telling tyou that you've reached the maximum number of entries for this category.
Sorting your Entry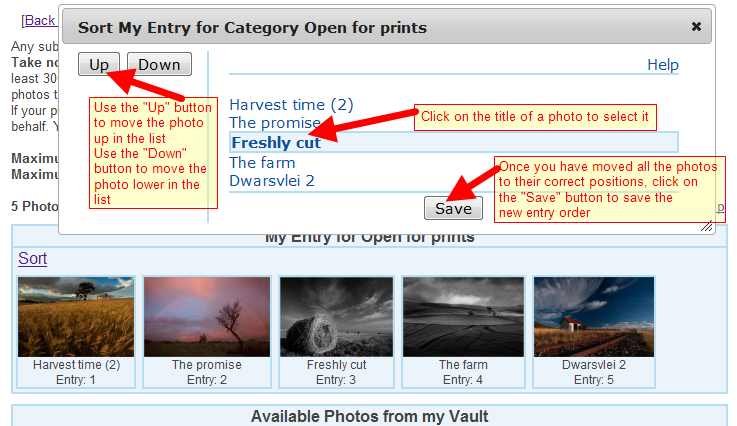 You may change the entry order using the Sort function.
Clicking on the "Sort" link will open the Sort dialog window.

Select the photo you want to move by clicking on the title.
A selected photo will be highlighted.
Once a photo is selected, click on the "Up" or "Down" buttons to move its position relative to the other photos

To save the new entry order, click on the "Save" button.